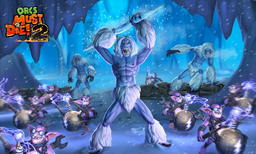 Are We There Yeti? is the third DLC expansion for Orcs Must Die! 2. It was released on 31st October 2012.
Overview[1]
Get your mittens out of storage because the War Mage and Sorceress are headed to protect the fortresses of the great white north! Defend the new Ice Cavern fortresses against some of the most difficult enemies yet!
Three new levels featuring a new Ice Cavern theme!
Three new Endless Mode conversions!
The chilling new Yeti enemy climbs over barricades and hurls icy shards at you!
The Goblin Sapper wanders the level disabling your well-placed traps.
A new weapon - The Dwarven Missile Launcher rains mana-filled death upon your enemies
A new Trap - The Spike Wall stabs and launches enemies to their deaths
A new Trinket - The Guardian Trinket will revive your fallen Guardians
New character costumes !
References
Ad blocker interference detected!
Wikia is a free-to-use site that makes money from advertising. We have a modified experience for viewers using ad blockers

Wikia is not accessible if you've made further modifications. Remove the custom ad blocker rule(s) and the page will load as expected.