Corridors is the tenth level in Orcs Must Die! 2 and the third in Act 2. Upon its completion the Boom Barrel Dispenser is awarded.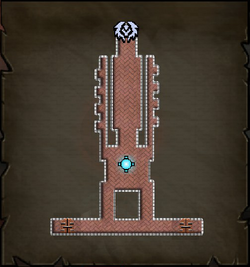 Level Description
General:
Entrance Doors: 3
Flyer Entrances: 1
Exit Rifts: 1
Waves: 12
Rift Points: 30 (Nightmare: 15)
Completion Time (par): 23:00
Starting Money: 5000
Strategy
A full complement of Archer Guardians on the side balconies will kill most things that enter from the north. However, watch out for Gnoll Hunters that try to attack your archers.
If you Barricade one of the south halls off, the other can be trapped with Swinging Maces.
A better solution would be to roast them to death with Brimstone
Soundtrack
Preparation Track :Untitled
Battle Track :Castlemania
Ad blocker interference detected!
Wikia is a free-to-use site that makes money from advertising. We have a modified experience for viewers using ad blockers

Wikia is not accessible if you've made further modifications. Remove the custom ad blocker rule(s) and the page will load as expected.