Crunch is the twelfth level in Orcs Must Die! 2 and the fifth in Act 2. Upon its completion the Bear Trap is awarded.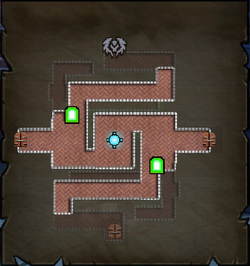 Level Description
General:
Entrance Doors: 4
Flyer Entrances: 2
Exit Rifts: 1
Waves: 12
Completion Time (par): 27:00
Starting Money: 6000 (Endless: 12000)
Traps:
Strategy
There are raised platforms along the north and south sides of the central platform. These are good places for Archer Guardians, which have many angles of attack from this vantage point. However, watch out for Gnoll Hunters, which may attempt to attack them.
If you use physics traps, be careful that you do not fling enemies too far--the lava/acid pools around the central platform are quite narrow.
Soundtrack
Preparation Track :Two Tone Towers
Battle Track : Mine Games 
Ad blocker interference detected!
Wikia is a free-to-use site that makes money from advertising. We have a modified experience for viewers using ad blockers

Wikia is not accessible if you've made further modifications. Remove the custom ad blocker rule(s) and the page will load as expected.