Hobgoblin Healer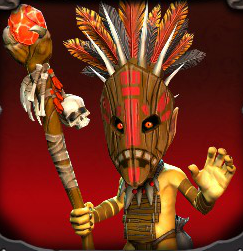 Heals damaged enemies
The Hobgoblin Healer, introduced in the Family Ties DLC, heals damaged, bruised, and battered Orcs.
Notes
Healers look and behave similar to Hobgoblin Shamans. They heal damaged enemies quickly and it is therefore important to sneak in and target them first. When they arrive in packs, they also heal each other and your best option is then to freeze them with the Ice amulet (or to otherwise stun them), then finish them off before they thaw.
Ad blocker interference detected!
Wikia is a free-to-use site that makes money from advertising. We have a modified experience for viewers using ad blockers

Wikia is not accessible if you've made further modifications. Remove the custom ad blocker rule(s) and the page will load as expected.