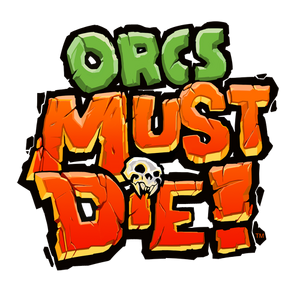 Orcs Must Die! is a Tower Defense/Third-Person Action game developed by Robot Entertainment released October 5, 2011 on XBLA (XBox Live, Arcade) and October 12, 2011 for PC as a download-only game.[1]
Premise
A white-knuckle blend of action and strategy, Orcs Must Die! challenges players to defend fortresses under siege. With a wide variety of traps and weapons to choose from, Orcs Must Die! dares players to find the best ways to hack, launch, flatten, gibletize, and incinerate an endless army of filthy orcs and their vile allies. Orcs Must Die! features a vibrant look, addictive gameplay, and a blatant disregard for the welfare of orcs.
External Links
References
Ad blocker interference detected!
Wikia is a free-to-use site that makes money from advertising. We have a modified experience for viewers using ad blockers

Wikia is not accessible if you've made further modifications. Remove the custom ad blocker rule(s) and the page will load as expected.