Passages is the ninth level in Orcs Must Die! 2 and the second in Act 2. Upon its completion the Archer Guardian is awarded. It is available in Endless Mode with the purchase of the Are We There Yeti? DLC.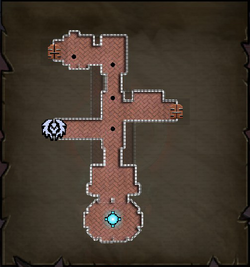 Level Description
General:
Entrance Doors: 3
Exit Rifts: 1
Waves: 12
Completion Time (par): 23:00
Starting Money: 6000 (Endless: 9000)
Traps:
Strategy
Four Barricades placed on the southern parts of the second floor will prevent Orcs from flanking the player to get to the Rift... as long as they are defended against Kobold Sappers.
If the second floor is blocked off, all enemies will have to pass under the southern bridge. This is a good killzone.
Soundtrack
Preparation Track :Untitled
Battle Track :Ogres In Like
Ad blocker interference detected!
Wikia is a free-to-use site that makes money from advertising. We have a modified experience for viewers using ad blockers

Wikia is not accessible if you've made further modifications. Remove the custom ad blocker rule(s) and the page will load as expected.