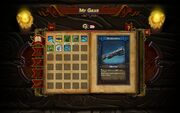 The Spellbook is a game mechanic in Orcs Must Die! and Orcs Must Die! 2. It contains all unlocked and upgraded weapons and traps available to the War Mage and the Sorceress.
The spellbook is available from the game menu and enables the player to buy upgrades with the
-currency.
In game, the spellbook can brought up from the start of the game. The player can choose or swap traps and weapons until the player places the first trap.
Orcs Must Die! 2
In Orcs Must Die! 2 the spellbook contains multiple tabs:
See Also
Ad blocker interference detected!
Wikia is a free-to-use site that makes money from advertising. We have a modified experience for viewers using ad blockers

Wikia is not accessible if you've made further modifications. Remove the custom ad blocker rule(s) and the page will load as expected.