Wind Up is the fourteenth level in Orcs Must Die! 2 and the Tenth in Act 2.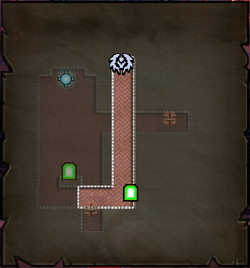 Level Description
General:
Entrance Doors: 3
Exit Rifts: 1
Waves: 12
Completion Time (par): 16:30
Starting Money: 10000 (Endless: 10000)
Strategy
On the first floor, there are 2 gates: one south and one east. A Portal to the south provides a shortcut to the upper hallway.
The Orcs coming from the lower two doors will reach the Rift a lot sooner than those coming from the upper door. Because of this, the lanes can be cleared sequentially.
Soundtrack
Preparation Track : Lover's Quarrel
Battle Track :Skull Crush